Coolidge Library
Located at 17 South Main Street, Coolidge Library welcomes residetns and vistors of all ages. They offer a large selection of books, including a children's area. The library hosts a handcrafters group where you can enjoy the company of others while you relax with your craft. If you're lacking ideas or skill, there is a pattern exchange with guided help available.
Lakewood Theater
Located amidst stately pines and white birch on the western shore of Wesserunsett Lake, Lakewood is the State Theater of Maine and America's oldest and most famous summer theater. Lakewood's tradition is long in years, deep in sentiment, and steadfast in endurance. Now entering its 120th Season, Lakewood offers exceptional performances of comedies, dramas, musicals, and children's shows from late-May through mid-September. We invite you to experience the excitement of live theater. For more information please visit their website: https://www.lakewoodtheater.org/lakewood-theater
South Solon Meeting House
By the quiet crossroads in a small town in central Maine, the South Solon Meeting House stands plain and simple, a white clapboard church built in 1842. But upon entering the doors, a world of color and sensation awaits.
There are simple wooden pews in tidy rows that are somewhat severe, a modest pulpit at the front, and large windows letting in the light. The sunlight illuminates the walls and ceilings which are covered, every inch, with massive frescos. Gorgeous and rich in color and meaning, the paintings fill the tiny church with explosive hues. It will take your breath away.
In the 1950s, the nearby Skowhegan School of Painting and Sculpture held juried competitions to select artists to paint large frescos on the meeting house walls. Each selected artist was only told to bear in mind the religious nature of the building. The painters included Sigmund Abeles, Alfred Blaustein, Edwin Brooks, Ashley Bryan, Willard Cummings, Sidney Hurwitz, William King, Tom Mikkelson, Anne Poor, Henry Varnum Poor, Judith Shuman, Sidney Simon and John Wallace. Every fresco is unique and depicts different scenes, from the Last Supper to a landscape of a farm. The fresco on the ceiling is called "God-head" and a kindly, yet colossal face of Jesus looks down upon the chapel.
Frescos are created by applying paint to wet lime plaster, like the ceiling of the Sistine Chapel. The South Solon Meeting House frescoes have been lovingly preserved by the South Solon Historical Society, which has raised money to restore the church within the last decade, ensuring that the meeting house be just that – a place for people to meet, whether in quiet contemplation, church services or music performances.
Today, free and always open to the public, the South Solon Meeting House is a rare find even in Maine. The odd juxtaposition of the small Gothic church – with its unassuming exterior and location – and the passionate explosion of modern art inside make it truly a one-of-a-kind destination.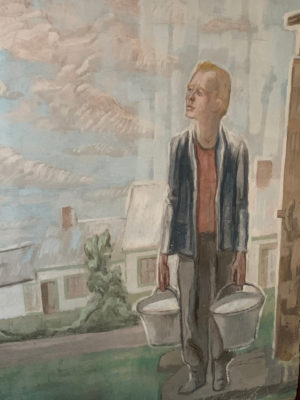 For more information please visit their website: http://www.southsolonmeetinghouse.org