Each fall, as the nights get cooler and the length of daylight shortens, northern hardwood trees display spectacular colors. Brilliant reds, oranges, and yellows can be seen with every view. At times it looks like the trees are on fire with color.
The peak foliage season varies year to year depending on weather and precipitation. Generally the later part of September through the first few weeks of October are a great time to visit.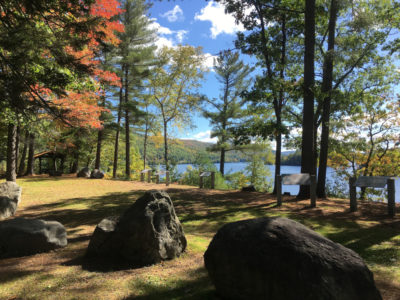 The Maine Forest Service publishes viewing information and updated foliage maps throughout the season. Please visit  www.maine.gov/doc/foliage
Below are several enjoyable foliage drives. If you've never seen New England fall foliage, you should plan a trip.
Upper Kennebec Valley Foliage Loops
Loop 1
Starting in Skowhegan take Route 150 North to Athens, turn onto Route 151 in Athens and proceed to Mayfield, continue to Mayfield Corner to the junction of Routes 151 and 16. Turn left onto Route 16 to Bingham. At junction of Routes 16 and 201-the Old Canada Road Scenic Byway-and proceed to Solon. Continue on Route 201 approx 6 miles to the new viewing area at Robbins Hill where there are unsurpassed views of the valley. Return to Route 201 and head south to Skowhegan.
Loop 2
Starting in Bingham take Route 201 North on the Old Canada Road Scenic Byway through Moscow, home of Wyman Dam, and then north along Wyman Lake which has many overlook pullouts and historical sites, such as the Benedict Arnold river crossing site. Proceed North to Caratunk Village and then on to The Forks, where the Dead and Kennebec Rivers converge. Take a right just before the Kennebec Bridge onto the Lake Moxie Road and proceed approx 2 miles to the Moxie Falls Scenic Area parking lot, where a short 1 mile hike will take you to Maine's highest waterfall with a 92 foot vertical drop, and is well worth the 20 minute walk. Return to the Route 201 Scenic Byway and proceed north to Parlin Pond. There are great opportunities for moose sightings along this route.
Proceed to Attean Overlook and Rest Area and then on to Jackman Village. From Jackman take a right onto Route 6 and 15 and proceed to Rockwood with views of Mt Kineo. From Rockwood continue to West and East Outlets-the head of the Kennebec River flowing from Moosehead Lake, and on to Greenville. From Greenville Center continue on Route 15 South thru the villages of Monson and Abbott. Take a right in Abbott onto Route 16 to Kingsbury Pond and Rest Area, and continue on Route 16 to Bingham to complete the loop.
Loop 3
Starting in Skowhegan follow Route 201 north to the Madison/Solon town line which now becomes  the Old Canada Road Scenic Byway(Route 201 North), through the towns of Solon, Bingham, Moscow, Caratunk and The Forks and the West Forks. Continue on to Jackman and on to the Canadian Border. Be sure to have the proper credentials to cross the border. Continue on into Canada on Route 173 to Armstrong. From Armstrong turn left at the junction of Route 269. At St. Gideon turn left on to Route 204 to Lac Megantis and turn left on to Route 161 to Woburn and on to Coburn Gore in Maine. At Coburn Gore follow Route 27 to Eustis and on into Kingfield. In Kingfield turn left onto Route 16 to North Anson to the junction of Route 201A. Turn right on Route 201A to Madison and on to Norridgewock. At the junction of 201A and Route 2, turn left to  Route 2 and back to Skowhegan to complete the loop.