Things to Do in Solon
Robbins Hill

If you only have a day, or just part of a day, Robbins Hill in Solon, the gateway to Old Canada Road, is a favorite location for visitors and locals. Buy the fixing's for a picnic lunch, grab a book, or set your phone to an app for some relaxing tunes. There are picnic tables and a restroom, but you may want to bring your own lawn chaise. If you bring children, they'll have fun with a kite, a ball and gloves, or their own book about woodland birds. It's also a dog-friendly place.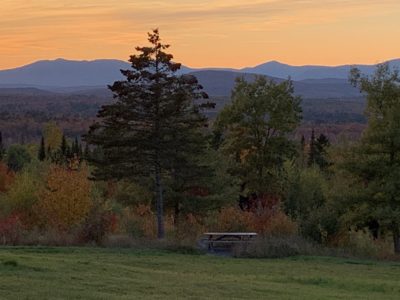 Relax, picnic, and explore the Wes Baker Trails at Robbins Hill Scenic Overlook in Solon, the gateway for Old Canada Road National Scenic Byway.
Visit the South Solon Meeting House. It's on the National Register of Historic Places and its murals will surprise you! If art history
If it's late in the afternoon, and you're on your way to another adventure further north, plan to have dinner at the newly renovated Solon Hotel. It's been a local watering hole for decades and nearly everyone who lives in the area has a story to go with it.