Welcome to the Old Canada Road Scenic Byway
The Old Canada Road Scenic Byway, stretches nearly 78 miles from Solon to the Canadian border. This scenic corridor seems specifically designed for people who love and appreciate the outdoors. The tourism amenities offered here add a touch of modern polish to the traditionally rustic nature of the area. Quaint villages along the way provide lodging, eating, outfitting and guiding services for all types of outdoor enthusiasts.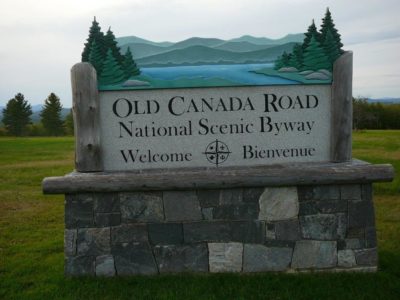 With the road traveling along the Kennebec River, Wyman Lake and on through The Forks area, where the Dead and Kennebec Rivers converge, the traveler can experience endless scenic views of amazing waterways and spectacular mountain vistas. North of The Forks, the road passes through miles of forestland with ample opportunities for wildlife sightings. Rest stops and way stations are embellished with informational kiosks and historic markers and include scenic pullouts, such as Attean Overlook and Lake Parlin. North of Jackman, Maine, the road to the Canadian Border is again in the mountains and part of the great north woods working forest.
Along with being a Maine Scenic Byway, Old Canada Road is also a National Scenic Byway, making it one of only 125 routes in the country to garner the distinction. The 78 mile scenic byway winds its way through the mountains of western Maine.
Explore the Region
With its many scenic views, recreational opportunities and rich culture and history, we're sure you'll enjoy your visit.
;
For a detailed map of the amenities and highlights along the Byway corridor, please click here.