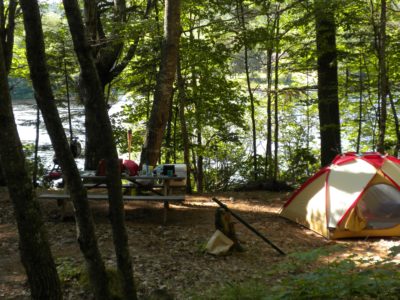 The Wilderness is Calling
Birds will wake you early in the morning, loons will lull you to sleep, and don't be surprised if a moose wanders through your site!
From experienced campers to those venturing out for the first time, the camping opportunities along the Old Canada Road offer unforgettable outdoor adventures!
Choose from the lakeside, riverside, organized resort campgrounds, or remote primitive wilderness sites!
Camp along our area's multiple hiking and waterway trail systems!
Bring your recreational vehicle or tent or stay in a cabin tent, bunk camp, or a trailside lean-to.
For family camping, there is simply no way to find more fun than to pack up your gear, the kids, and the dog and head up 201 on the Old Canada Road Scenic Byway. Be ready to view the Milky Way, meteor showers, and lovely sunrises and sunsets. Get out those marshmallows! Your campsite and fire pit are waiting for you!
Camping is the most affordable lodging option with many supporting amenities in the area.  Enjoy Maine Hiking, Fishing, Rafting, Paddle Sports,
Check with a local Chamber of Commerce or one of many area outfitters for camping information.