From flat water to whitewater, you'll find it on the Old Canada Road National Scenic Byway on a hot summer day or a colorful late September day In the Upper Kennebec Valley find an isolated pond or a river to challenge you! Endless fun on the water awaits!
Tubing and Kayaking
Float on down the Kennebec River on a hot summer day!
Most tubing adventures begin in at the Ball Field at the bridge in The Forks. Be sure you know the water release schedule so high water reaches the Ball Field before you take off!
Bring your own watercraft or find an outfitter that rents and guides tubing and kayaking adventures.
Paddling
Canoe paddling on the Moose River outside of Jackman is a favorite trip. Outfitters offer guided trips and instruction, complete with packages that include equipment, delicious meals, and lodging, from camping to cabins, Inns, or resorts with full amenities.
Other folks like to discover the beauty of boating on Big Woods Lake and Attean Lake, both in Jackman.
Whitewater Rafting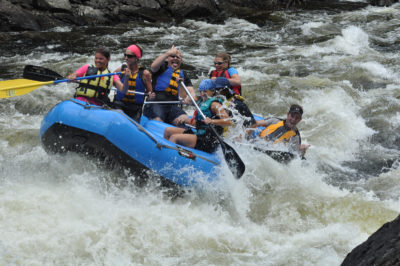 The Upper Kennebec Valley from Bingham to Jackman is whitewater rafting territory. Two rivers meet in The Forks and form the area's hub as Maine's rafting center from May to October.
Find the thrill of navigating class 2 to class 5 rapids on the Dead and Kennebec Rivers. Area outfitters can provide full-day trips, 7 days a week. Rafting on the Kennebec takes you through a 12-mile gorge and on the Dead River you'll experience the longest stretch of continuous whitewater in the East – 16 miles!
Area outfitters offer complete adventure packages.
If you enjoy being on the water to relax or pushing through whitewater for the thrills, you can find both on Old Canada Road!