Somerset County offers a variety of flat water, swift water and whitewater, on a wide range of lakes, streams, ponds and rivers that provide endless opportunity for canoe, kayak, raft, drift boat or tubing recreation.
Floating
There's nothing better on a hot summer day to do than take a tube, SUP, kayak, canoe, raft or anything you can float on down the Kennebec River. Put in at the Ball Field, just after the bridge in The Forks, and take out at the Appalachian Trail crossing in Caratunk. The slight current allows for a relaxing float without exerting too much effort. If you're feeling adventurous, you can find many places along the far side of the river to get out, stretch your legs and explore. You may find old treasures in the woods, obscure waterfalls, small inlets with wildlife sightings and other magical places that only you will find! Be sure to wait until the dam has been released and high water reaches the Ball Field before your float, otherwise the river is too shallow and you will bump along the bottom of the riverbed with your watercraft, potentially risking injury to yourself or your equipment. Typically around noon or shortly thereafter you can begin your adventures on the river, leaving the morning for other activities!
Paddling
If paddling is your passion or you would like to learn how navigate gentle currents to raging whitewater, the Upper Kennebec region of Maine is the place to start. From Solon north to the Canadian Border paddle enthusiasts can spend a day to full week trips on our vast waterways. Many area guides and outfitters offer guided trips and instruction, complete with packages that include equipment, delicious meals and lodging, from camping to cabins, Inns or resorts with full amenities.
Travel woodlands and mountains rich in history and wildlife. Bring your camera, sketch pad and binoculars and make a day of it. Stop along the way to feast your eyes, take little side hikes or just sit in the sun and watch the water roll by.
For information on available trips and outfitters contact local area Chambers of Commerce, visit their websites or check out sites like www.visitmaine.com
Whitewater Rafting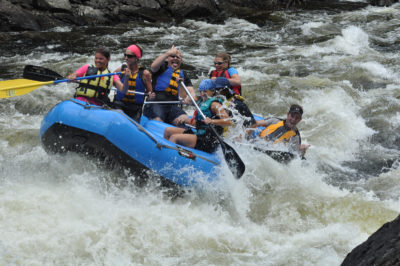 The Upper Kennebec Valley from Bingham to Jackman is whitewater rafting territory. The towns of The Forks and West Forks are nestled around the confluence of the Dead and Kennebec Rivers and are Maine's rafting center from May to October. More than a dozen outfitters provide rafting trips daily along with guided outdoor adventures-canoeing and kayaking, float trips, pontoon boat trips, as well as hiking, rock climbing, fishing and moose safaris.
Over 60,000 passengers a year ride the Class 2 to 5 rapids of the Dead and Kennebec Rivers. Thanks to guaranteed water releases from our hydro -power dams, outfitters can provide full day trips, 7 days a week. The Kennebec travels twelve miles through a magnificent evergreen gorge and the Dead River offers the longest stretch of continuous whitewater in the East at sixteen miles. The lower section of the Kennebec is popular with seniors, younger children and those who prefer a milder trip. Trips include transportation to and from the base facility to the river, all river gear, pre-trip orientation, guided trip on the river, snacks and a hearty meal and post trip pictures and videos of your adventure.
True thrill-seekers can sign on for special Turbine Test Days which provide real Class 5 heart pounding whitewater adventure. Most area outfitters offer complete adventure resorts with a wide variety of package deals available and lodging from camping to modern cabins, lodges and inns. To protect the environmental quality of its wilderness rivers, Maine limits the number of river rafters each day, so it is always a good idea to make reservations in advance.