Vacation in The Forks Area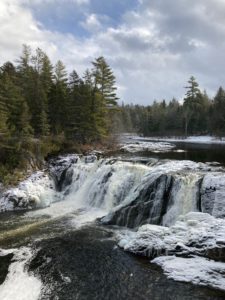 Endless Outdoor Adventures
Plan a vacation to The Forks area with family or friends that includes outdoor adventures for all ages. There are whitewater trips for young people as well as adults. The area offers hiking and biking trails for all abilities. And, if you just want to fly fish and enjoy the solitude of small brooks and ponds, there are many places for that, too.
1. Go whitewater rafting on the Dead and Kennebec Rivers! It's such a fun way to experience the gorge!
2. Climb Pleasant Pond Mountain, a section of the Appalachian Trail. Some families make this an annual adventure!
3. Snowmobile or hike to the top of Coburn Mountain!
4. Hike and bike the Forks Area Scenic Trails. Some are ADA-compliant and several are part of the snowmobile trail system.
5. Visit Moxie Falls, Maine's highest with a 92-ft drop and other area waterfalls.
6. Do some camping and fishing. There are many lodging amenities to choose from and fishing guides to consult.
Make your next vacation in The Forks the one where you discovered the great outdoors!